It's that time of the week again; the time of the week where we go over some great new free-to-download releases from the App Store.
In this post, we're going to show you five great free apps and games for iOS from the App Store. We know how hard application discovery can be on the iOS platform, and that's why we're here to help. Below, you'll find five great apps and games that are available right now that you may or may not have heard of. We do this every week!
If you missed our previous Five Great Free Apps and Games for iOS, you can head over to
this link
to read our August 27th edition.
1. Paper – Notes, Photo Annotation, and Sketches by FiftyThree
First on our list this week is
Paper
, a popular sketching and diagram-making application by FiftyThree, which was just released for the iPhone
last week
. The application comes with various tools for drawing, annotating, taking notes, making diagrams, or even just doodling. You can even purchase FiftyThree's special stylus if you want to make even smoother strokes and control your drawing better. You don't need the stylus though – the app works just fine with your finger and you can use it to let out your inner artist. Check it out!
You can download Paper for free from this App Store link.
2. Adblock Browser
Next on our list this week is a Web browser called
Adblock Browser
, which can be used to save on data plans and prevent excessive battery drain. The application blocks ads during your Web browsing experience on your mobile device, where the small screen's real estate is very important to the Web browsing experience. Check it out!
You can download Adblock Browser for free from this App Store link.
3. Pop the Lock
Next up is a game, which is called
Pop the Lock
. This game is specially made to test your patience. Your job is to unlock the lock by carefully timing your taps, which have to synchronize with the moving lines that will inevitably land on dots inside of the lock. You want to tap when the line meets the circle, and not too soon and not too late. If you don't get it just right, you'll have to start all over. As you advance through levels, you have more steps to do and the stakes get higher. Check it out!
You can download Pop the Lock for free from this App Store link.
4. Fishy Bits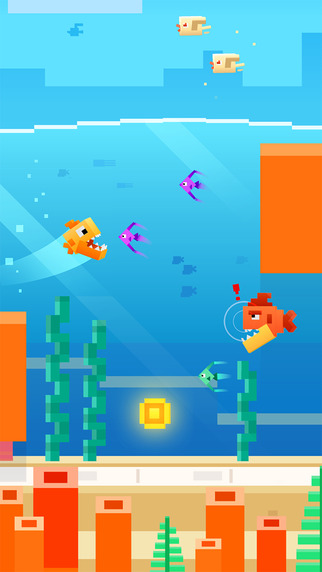 Another game worth taking a look at is one called
Fishy Bits
. In this game, you'll play as a fish trying to swim as deep into the ocean as possible. You want to avoid getting eaten by sharks along the way. The game gets hard, so it's something that will not only test your patience, but it'll test your skills and make you want to best your high score. Check it out!
You can download Fishy Bits for free from this App Store link.
5. Slow Down
And last on our list this week, but definitely not least, is a game called Slow Down. Here, you will try to continue along your path as long as you can go without hitting anything. By avoiding obstacles, you'll get to advance, but if you hit them, it's game over. You can collect stars along the way to unlock new balls to play as. Check it out!
You can download Slow Down for free from this App Store link.
---
Stay tuned for next week's best free apps and games only on ModMyi!