In somewhat of a symbolic light, Apple has chosen Infinity Blade III to be the App of the Week in the iOS App Store this week. Apple has always had a soft spot for the Infinity Blade series; showing the game at its media events to show off the powerful new graphics each year that a new iPhone comes out, and despite the fact that there hasn't been a new Infinity Blade game for two years, Apple is hosting the game as the App of the Week during the same week that Apple unveiled its new iPhone 6s and iPhone 6s Plus.
For gamers, this is great news, because instead of having to pay $6.99 to grab the game from the App Store, you'll be able to download the game completely free of cost for the next week.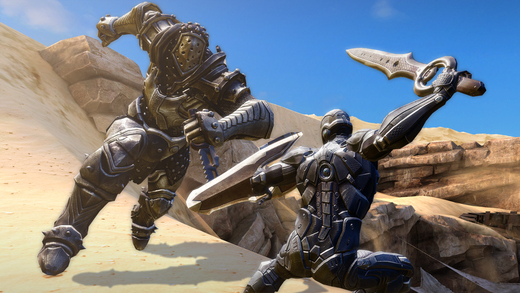 Infinity Blade III is a premium title that has been historically used for benchmark graphic tests, but that's not to say that it's all about eye-candy. It's a sword and armor game in which you explore lands collecting cash and taking down enemies with your skills. You can upgrade your armor and weapons as you advance and take on creatures and bosses along the way.
If you want to grab Infinity Blade III while it's free of cost for the next week, you can head over to
this App Store link
.
Source:
App Store